In the past two years, we've experienced a lot of change at Brandcave. Of course, that's not an irregular thing for a startup. My mentor tells me to expect at least one big pivot in any venture. We've had a few; and I've learned to accept that fate will play a significant factor in the growth of a company — no matter how crafty the vision.
So, today, we are formerly acknowledging that Brandcave has become a UX design agency (What is UX?).
The Road to Rebrand
When our small team launched Brandcave in late 2014, we had initially intended on building an inbound marketing agency. For more than a year, that's what we did. It turned out well and, despite some scalability problems, we became profitable quickly.
However, as our clients began to ask us to take on their UX projects, such as redesigning their software or creating chatbots and mobile apps, we began to hear things like "This is where you guys bring the most value to the table."
As we began to design more software applications, we began to agree. We really are uniquely suited for UX. We have the right talent, size and energy to build really great applications. It reinvigorated our passion and the projects kept coming.
When we decided to concentrate on UX, however, it hit us. We had to change everything. Our mission was incongruent with our new offerings, our messaging was off and our branding did not communicate the direction we were heading as a company. In other words, we needed a rebranding strategy.
No rebranding strategy is born overnight. It's a laborious effort that often amounts to countless unused color palettes, tossed sketches and internal arguments. It requires building something fresh without being silly or foolish. It's more than adding a hat on a mascot. It requires creating some kind of connection to what you do.
Brands are Reflective of Their Mission
We didn't decide to rebrand Brandcave because we wanted to "refresh" our color palette. Although there was certainly a temptation to do that, it came as a result of this change in our business model.
Because, as important as logos are, a brand is much more than a logo. A brand is an end-to-end experience powered by the company's mission. A rebranding strategy, therefore, has to be centered around an organization's mission statement.
Our business pivot (and subsequent rebrand) came with a new, laser-focused mission: we exist to make the web a friendlier place. And now that we have officially started our transition, that mission is most reflective of our offerings.
How does a brand communicate its mission? For us, it meant re-introducing Illo, our Shiner-drinking, jean-shorts-wearing Sasquatch.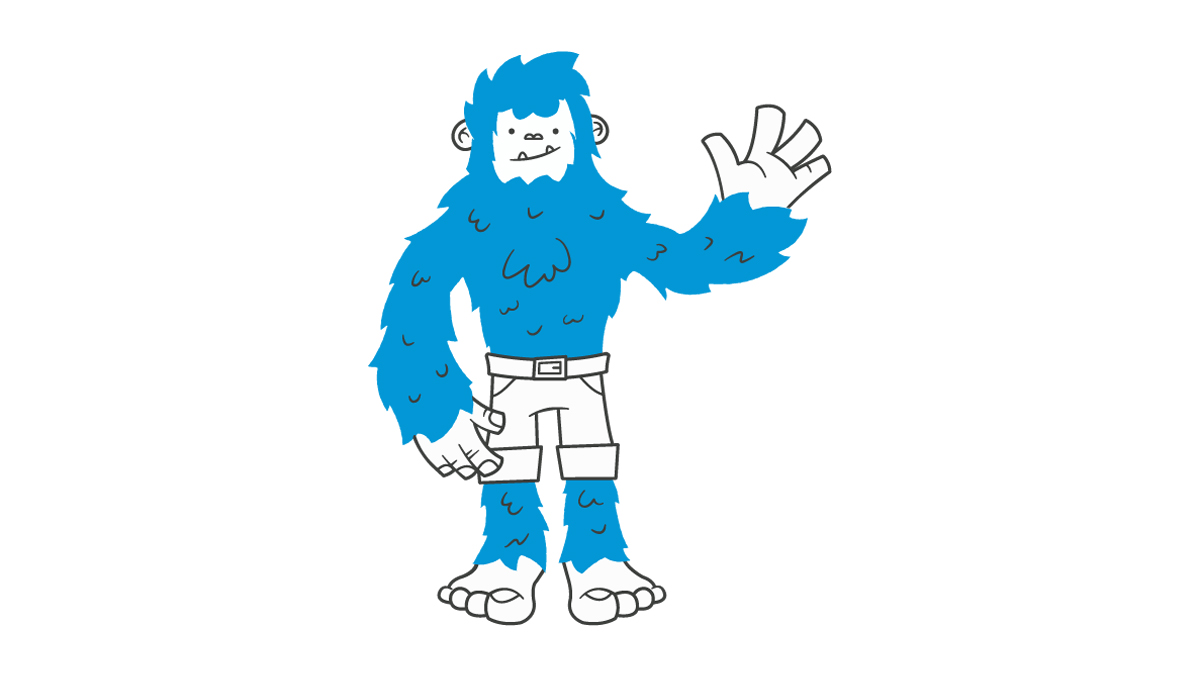 Illo was born at the launch of Brandcave, but he had always taken a backseat in our branding. At the time, perhaps, he didn't fit our mission as well. And, although I love the Brandcave wordmark and it's Coca-Cola-esque quality, Illo was always intended to take center stage.
When you see Illo, he is either saying hi, opening the door for you, busy helping someone in need or spending time with his friends. He represents the values of friendship and transparency. He lives in a grown-up universe made of childlike illustrations. It's understandable by everyone.
He bridges the gap between us and our clients — which are sometimes very complex relationships. When we tell you we want to make the web a friendlier place, Illo is the face you should see.
A Rebranding Strategy for the Future
Brands are fluid creatures. You can't contain them within a style guide and you can't keep them from taking on the personality of the human faces behind them. There is no such thing as a timeless brand. They are only as useful as their relevancy to consumers. In an ever-changing environment where customer needs change often, rebranding is a recurring task.
This won't be the last rebrand for Brandcave but we're proud of the progress we've made. Version 3.0 has been an important step for us in the evolution of our company. It's like fresh air. It's something new, flexible and scalable that we can actually use to continue telling our story. It opens up a new world of possibilities for us.
Our company is being built on the idea that the web should be great for everyone. If you are looking for a friend to navigate the complexities of UX, reach out. Illo will be happy to talk to you, and we will too.